Panama Crossroads is a 3-day electronic music festival based in Panama City. The program is carried out in the most iconic settings of the country with the aim of enjoying the immense diversity of Panama, its natural wealth and the security it offers to all its visitors.
Launch Event – Biomuseo
By Invitation Only
11am – 1pm ︱ Cultural Center: Political and Social Focus – Gladys Vidal Theater in Hatillo Speaker: Ramón De Lima (Amsterdam Night Mayor) FREE PASS
9pm – 3am ︱ Boat Affairs (Boat Event) – Panama Bay (Boat Sets Sail at 11pm)
Presale at www.mieventos.com
9pm – 3am ︱ Rooftop Event – Selina Casco Viejo
Only tickets at the door
11am – 1pm ︱ Cultural Center: Technical and Professional Focus – Selina Casco Viejo
Local Producers Workshop
Gustavo de La Cruz (KImao) and Carlos Barbero emphasize their musical production and deconstruct one of their best-known tracks step by step.
Moderator: Esteban Howell (Dj Lab, Costa Rica).
FREE PASS
2pm – 3pm ︱ Cultural Center: Technical and Professional Focus – Selina Casco Viejo
Workshop on contemporary DJing technology With an emphasis on digital technology
Speaker: Esteban Howell (Dj Lab, Costa Rica)
FREE PASS
3pm – 4pm ︱ Cultural Center: Technical and Professional Focus – Selina Casco Viejo
Workshop on how to make your own independent label
Speaker: Lloyd Keene (Cacao Records)
FREE PASS
9pm – 4am ︱ +Rescue Beats 2023 – Mi Pueblito
Presale at www.mieventos.com
4pm – 1:30am ︱ Closing Event – Flamenco Island Bunker
Presale at www.mieventos.com
*The announcement of the artists, both international and local, as well as their presentation schedules, will be announced on the Festival's social networks.
Instagram: @panamacrossroads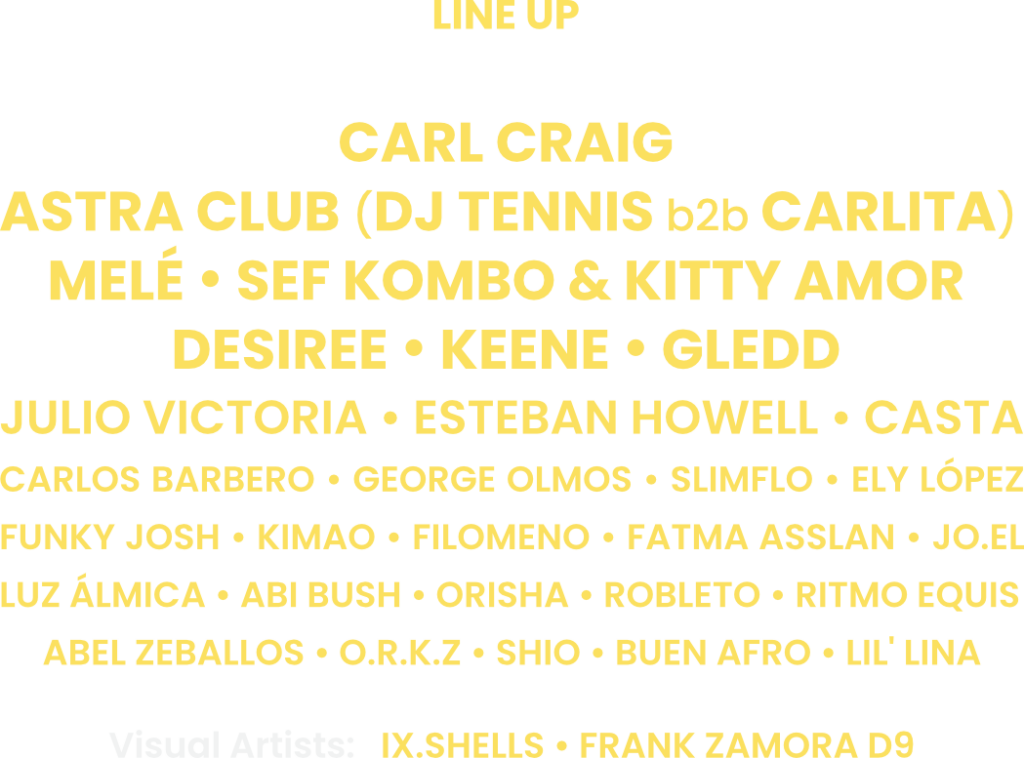 Panama Crossroads Festival is a space for people to connect through music and shared experiences. We welcome people from all over with open arms, regardless of race, gender and sexuality, as long as they come with a positive attitude.
Here are some essential house rules. Please, read:
Be inclusive:
People at Panama Crossroads are free to dress how they want, be who they want to be, and love who they want to love. We want everyone to be able to freely be themselves without judgment. Take care of each other, treat everyone with respect, embrace openness, and celebrate together.
If you experience or witness any sexist, racist or homophobic behaviour, or if someone or something makes you feel uncomfortable or vulnerable, please let us know. The security team will be available to assist you, but you are welcome to contact any member of staff. Bar staff, security, DJs, we are all on the same team. Panama Crossroads is a safe space and we will protect it preciously.
Be open:
At Panama Crossroads you can enjoy a wide selection of artists. From the biggest international acts to local heroes, this is a great opportunity for you to discover new music, genres and artists.
 If you see that there is an artist that you have not heard before, rest assured that there are reasons for it to be there. We take great care in programming and musical curatorship. Get out of your comfort zone, your new favorite artist may be waiting for you there.
Be present:
Panama Crossroads is an escape from the everyday, make the most of it. If you're on the dance floor, put your phone away. Dance, interact with the people around you, let yourself go and enjoy the moment.
Take care of the locations
The locations are incredibly beautiful and cozy, but remember that we share in spaces of important historical value. Be kind and leave the place in the same or better condition than when you arrived.
Take care of the environment
Be aware of your surroundings and take care of where you are. We are incredibly lucky to have the opportunity to experience these locations with our favorite music, so don't take it for granted.
Having fun can be sustainable. Don't throw away your cigarette butts, use the garbage cans, bring your reusable cup, collect any plastic you see and help us keep these beautiful places in perfect condition.
Panama Crossroads uses the Cashless payment system. Your bracelet has an RFID chip which you can recharge to make purchases at the bar. This is the safest way to use your money on the spot. It also means fewer lines and more dancing.
Please note that there are some small fees to cover part of the costs of running the Cashless system
What happens if I lose my bracelet?
Your bracelet should stay securely attached to your wrist. There shouldn't be any reason for you to lose it before the event is over. You must treat your bracelet as if it were cash or a bank card. 
In our experience, it is very very rare for one of the bracelets to break. If you lose it, we will not be able to recover any balance.
ENTRY CONDITIONS TO THE EVENTS
The event is strictly for people over 18 years of age.
All admission is subject to search.
The festival reserves the right of admission to any area of the festival.
For promotional and security reasons, customers may be filmed at any time. By entering events, you agree to this condition of entry
Unauthorized photography, audio, and video are strictly prohibited.
The festival will not accept any responsibility for damages or losses suffered at the events.
Prohibited items or any items that the festival or third parties acting on its behalf (such as security) deem to be; a risk to the safety, security or enjoyment of others; unfit to be brought to the Event; or, can be used in an illegal or offensive way (regardless of whether the item itself is illegal or not) not allowed to be carried in any location or setting.
Prohibited items
Illegal drugs or Psychoactive Substances
Glass
Spray paints and pens
Drones
Items that can be used in a dangerous way, including sharps/knives, stun guns, and pepper spray
Animals (with the exception of authorized assistance dogs)
Alcohol and food
Private sound systems
Sparklers, firecrackers, fireworks, Chinese lanterns and naked flames Inc. tea lights
No unauthorized professional commercial photography
CONTACTO
Email: info@latenightmusic.org
And find out all the details and information